Intrusive-related, structurally controlled, high grade gold & silver mineralization.
Adjoining properties with extensive historical underground development and production between 1905 and 1943.
Property covers the structural extension, southeast of the known showings. Initial sampling returned up to 13.7 g/t Au and 1.2 m @ 2.65 g/t Au
The East Gold Point Property is located near Gold Point, in Esmeralda County, Nevada. The property is 236 km NW of Las Vegas, 72 km NW of Beatty and 40 km SW of Goldfield. Mining in the Gold Point area dates from the 1880's when silver was produced and hauled to Lida for processing. Following the discovery and development at nearby Goldfield, exploration and mining rejuvenated with the Great Western Mine opening in 1905 and the discovery of shallow high-grade silver in 1908. Originally called Hornsilver, the small town that grew up around the mines changed its name to Gold Point in the 1930's as production from the deeper reaches of the mines was predominantly gold by then. Mining operations were conducted intermittently from 1905 through 1943 and sporadically from 1946 until the early 1960's. The most significant veins in the district were consolidated by Southwestern Mines Ltd. in 1922 and later taken over by Ohio Mines Ltd. In 1983, Government geologists estimated total production in the district at approximately 28,000 oz Au-eq but a 1930 Ohio Mines report documents 24,400 oz Au produced from the Orleans Vein alone at 29 g/t Au with an additional 90,909t oz Au at 16.56 g/t Au left in the stopes on that vein. Since the 1980's the Gold Point area has been explored by Chevron USA, Renaissance Exploration, Labradex Corp. and Nubian Resources Ltd.

The Gold Point area is underlain by Precambrian Wyman Formation fine-bedded clastics and carbonates and by Reed Dolomite, intruded and tilted to the NE by an ESE trending finger of the Jurassic Sylvania Pluton. Precious metal mineralization is hosted in branching and anastomosing WNW striking, moderately NNE dipping veins and breccias in the Wyman Formation. Ore shoots within these systems dominantly rake to the east in the plane of the structures. The host veins consist of crushed, coarse crystalline quartz with hematite and limonite. Silver mineralization is shallow and hosted in chlorargyrite and rare bromyrite. Gold is associated with pyrite, galena and cerussite, persisting to a depth of at least 960' (293 m) below ground level. The principal veins in the Gold Point area are the Grand Central–Western vein system and the Townsite–Orleans vein system to the northeast. The veins range up to 9 m in width (Orleans Veins) and the major vein systems were defined on strike at surface for nearly a kilometer.
Mineralization at Gold Point is intrusive related, in a class which includes the high-grade Pogo Deposit in Alaska. Gold Point mineralization is similar in style, mineralogy and stratigraphic position to Scorpio Gold Corporation's Mineral Ridge Deposit (Production to 2018: 697,715 oz Au) located 58 km NNW of East Gold Point, and to Valterra Resource Corporation's Weepah Deposit (117,000 oz Au past production) located 68 km N of the property.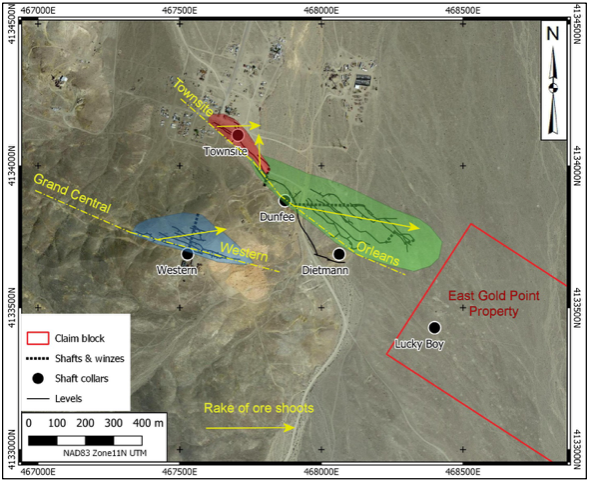 Silver Range's East Gold Point Property covers the structural and stratigraphic extension of the main workings and mineralization at Gold Point to the southeast over a distance of 2.25 km. Silver Range acquired the property by purchase and staking in 2019. Historical exploration in the East Gold Point Property area was frustrated by relatively thick overburden but the region was nonetheless a major focus of attention during development in the 1930's. The nearby Dietmann Shaft and workings connecting to the Dunfee Shaft in particular were driven by a theory that the Orleans vein branched from potentially rich and thicker vein southeast of the exposed and exploited veins. Historical workings on the East Gold Point Property include two shafts with limited drifting (Lucky Boy and Hornsilver America shafts). Initial underground sampling at the Hornsilver America workings returned up to 13.7 g/t Au from grab samples and 1.2 m @ 2.65 g/t Au from chip samples.
Historical mining at Gold Point focused on very high-grade mineralization in the core of ore shoots, considering mineralization at 10 g/t Au uneconomic. Silver Range believes there is potential at East Gold Point to find a large, structurally-hosted high-grade gold deposit. Silver Range intends to conduct geophysical and soil geochemical surveys to map the structure and locate drill targets on the property.